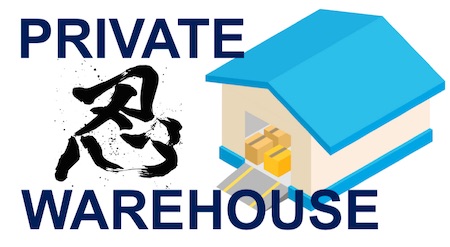 Who is My Private Warehouse for?
My Private Warehouse is a system used to combine your orders on a monthly basis. By default, all items released or purchased within the same month will be consolidated as a big shipment. Your final shipping invoice will be sent to you early the following month.
We recommend My Private Warehouse for customers who would like their pre-orders to be sent every month as they are released, instead of being combined over multiple months. You will also able to save on shipping costs by combining items together in one package! If you prefer your items to be shipped together regardless the release date, please choose a standard shipping method and not My Private Warehouse: Shipping Methods
How does My Private Warehouse Work?
1. Items are stored safely in your "Private Warehouse"
2. At the end of the month, all readily shippable items will be consolidated and packed by your Private Warehouse Agent
3. Our Private Warehouse Agent will choose the most economical and quickest shipping method for your parcel
4. You will then be mailed a MPW Shipping Invoice which will outline the associated shipping cost and what items are to be shipped to you for that month.
5. Your monthly shipment leaves our warehouse and is shipped to you!
How do I select Private Warehouse?
In the Shopping Cart interface, navigate to the shipping options pages and select My Private Warehouse.
How do I start saving shipping costs using MPW?
To fully benefit from the cost savings, select Private Warehouse as a shipping method for multiple orders. The more items you plan on ordering the more of an advantage this system is!
Is there a cost or upfront fee to use MPW?
Nope! It is a free service designed to help you save on shipping costs!
Can I use Pay Later in tandem with MPW?
Yes you can! Before you select Pay Later, you can still choose My Private Warehouse as your desired shipping option during checkout.
Which items from my Private Warehouse can be shipped together at the end of the month?
By default, all items released or purchased within the same month will be consolidated as a big shipment (Release dates ranging from the 1st to the 30th/31st of that month) that will be packed together and measured to provide you with an accurate MPW Shipping Invoice.
When will I expect to receive my MPW Shipping Invoice?
We will send your shipping invoice early of the following month! For example, a MPW Shipping Invoice containing items releasing in September will be created and sent to you between October 1st to 14th.
Can I choose my Shipping Method for MPW?
Our MPW Agents will pack your according to the most cost effective & quickest shipping method available for your destination!
When must I pay my MPW Shipping Invoice?
Please take a look at the figure below for deadlines
Can I combine or split my MPW orders?
We cannot combine or split orders for you once the invoice has been issued, as your items have already been packed, ready to be shipped. Please note that items from multiple release months cannot be combined together, and items from the same release month cannot be separated.
I want to update the shipping on an existing order to Private Warehouse, is that possible?
Unfortunately, once your order has been placed, we cannot change the shipping method to Private Warehouse.
What happens when my order is cancelled because the MPW Shipping Invoice was left unpaid?
In order to prevent any service abuse, if you do not pay your shipping we will cancel all orders in your Private Warehouse. A 15% cancellation fee will be automatically applied to all orders affected. Please contact our Customer Support team to settle any outstanding refunds.