Your Private Warehouse at Nin-Nin-Game.com
Group your items each month, and save big on shipping costs!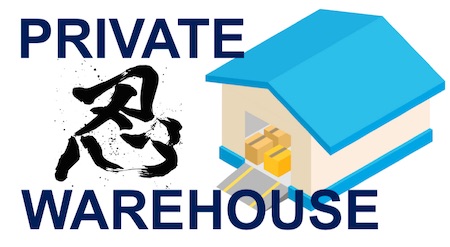 How does your Private Warehouse work?
- When you order/pre-order an item: when selecting your shipping method, please select "Private Warehouse".

- All your orders/pre-order items from that month will be safely kept in your Private Warehouse, consolidated and shipped together at the end of the month!

- At the end of the month you will be sent a link to an invoice where you can select your final shipping method (ie: EMS, Registered, FEDEX/DHL, Surface etc.)

- This shipping invoice will cover the EXACT weight and dimensions of your final parcel! = cheaper shipping

- After you have selected and paid your desired shipping, your parcel will be dispatched immediately :-)
Private Warehouse FAQ



0) How much does it cost to use my Private Warehouse?
- It's FREE! You settle shipping costs at the end of the month :-)
1) Which items from my Private Warehouse can be shipped together at the end of the month?
- By default, ALL items released from the 1st to the 30th/31st of that month will be consolidated as a big shipment. Your final shipping invoice will be sent to you after the month has ended!
2) Until when should I settle my final shipping invoice?
- You will have 10 days to settle your shipping invoice from the time it is sent to you.
3) What happens if I don't?
- We will apply a storage fee of 500¥/item in your shipment and send you a 2nd invoice, which you will have 10 more days to settle.
4) What happens if I still don't pay that 2nd invoice?
- Unfortunately, in order to prevent any service abuse, if you do not settle your shipping we will cancel all orders in your Private Warehouse, and refund your items with a 15% penalty.
5) I want you to keep my orders more than one month, is that possible?
- If you have been sent the designated shipping invoice for the month, you are expected to complete the payment as soon as possible.
6) Can I use Pay-Later together with my Private Warehouse?
- Yes you can! When you pay a "Pay-Later" order for which you selected the Private Warehouse option, the corresponding items will enter your Private Warehouse and be consolidated with other items from that month! So convenient.
7) Now that the Private Warehouse option exits, can I use it on my previous/pending orders?
- Sorry, we are not able to apply this option to orders that have already been placed.
8) Can you ship my monthly Private Warehouse items in several small parcels?
- All monthly Private Warehouse items will be shipped in ONE single consolidated parcel!
For any other questions on your Private Warehouse at Nin-Nin-Game.com,

please contact our Customer Service

!