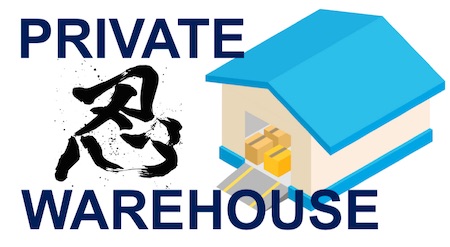 What is My Private Warehouse?
My Private Warehouse is a system used to consolidate orders into a single package on a rolling monthly basis, starting from the date of the first item available.
Every month, we will send you a payment link for the shipping costs of your package.
All the items available in your Private Warehouse at the time of invoicing will be included in this package.
Your payment link for the shipping costs will be sent to you one month after your first item arrives at our warehouse.
We recommend MPW to customers who want their items to be consolidated into a single package each month to save on shipping fees.
If you prefer your items to be shipped immediately upon their release date or distributed in multiple packages, please choose a Standard or Express shipping method -> Shipping Options
How does My Private Warehouse Work?
1. Place your orders without having to pay shipping fees upfront, and without worrying about the different release dates of your items.
2. Upon their release, the items are safely stored in your Private Warehouse for a month.
3. One month later, all available items at the time of invoicing will be consolidated and packed into a single package.
4. You will receive an email with a payment link indicating the available shipping methods for your package.
5. Once your invoice is settled, your package will be shipped to you!
How do I select Private Warehouse?
In the Shopping Cart interface, navigate to the shipping options pages and select My Private Warehouse.
How do I start saving shipping costs using MPW?
To fully benefit from the cost savings, select Private Warehouse as a shipping method for multiple orders. The more items you plan on ordering the more of an advantage this system is!
Can I use Pay Later option on my preorders while selecting MPW?
Yes you can! Before you select Pay Later, you can still choose My Private Warehouse as your desired shipping option during checkout.
Which items from my Private Warehouse can be shipped together?
All available items in your Private Warehouse at the time of invoicing will be consolidated as a big shipment that will be measured to provide you with an accurate MPW Shipping Invoice.
When will I receive my MPW Shipping Invoice?
The shipping fee invoices are sent in chronological order one month after the reception of your first item in our warehouse.
Can I choose my Shipping Method for MPW?
Our MPW Agents will pack your items according to the most cost effective & quickest shipping method available for your destination! The available shipping methods in your invoice may be limited based on factors such as item size, weight, destination restrictions, or our determination of the most efficient and economical shipping option.
*Please note that in some instances, there may only be one method available*
When must I pay my MPW Shipping Invoice?
Please take a look at the figure below for deadlines
Can I combine/add standard (non-MPW) orders with my ongoing MPW orders?
We cannot combine or modify non-MPW orders with MPW orders since the items are located in two different warehouses.
Can I decide which items will be included or not in my package, separate them, or group them according to my preferences?
MPW is designed to group your items into a single shipment. If you need specific arrangements such as dividing the items into multiple packages, combining/separating certain items, or using different delivery addresses, MPW is not suitable for you. We recommend choosing another shipping method from the available options below: Shipping Options
Can I receive my items quickly with MPW?
MPW is not the fastest shipping method as the main goal is to group all your items available during the month. We will generate an invoice for the shipping costs the following month, in a chronological way. If you need your items to be delivered as quickly as possible, we recommend selecting one of the Express shipping methods we offer: Shipping Options
***Attention***
When we generate your invoice, it includes all the items available in your Private Warehouse at that time. Please be aware that some items may be subject to manufacturer or supplier delays, while others may be released earlier than expected. Once your invoice is issued, we ask you to make the payment within 10 days.
***Please note that no item can be added or removed from the invoice once it has been generated***
What happens if I don't pay my MPW Shipping Invoice on time?
To avoid any abuse, if you do not pay your shipping costs, we will cancel all your MPW orders. A 15% cancellation fee will automatically be applied to all affected orders. Please contact our customer service for your ongoing refund.
***Please note that if you do not pay one of your shipping fee invoices, we will not be able to send the one for your next items!***
Happy shopping on Nin-Nin-Game!