Votre Private Warehouse chez Nin-Nin-Game.com
Groupez vos produits tous les mois, et économisez sur les Frais de Port !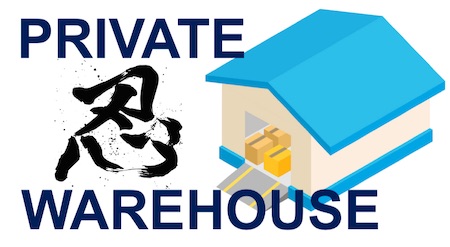 Comment marche le "Private Warehouse" ?
- Quand vous commandez / pré-commandez un produit, au moment de sélectionner votre méthode d'envoi, sélectionnez "Private Warehouse".

- Toutes vos commandes / pré-commandes de ce mois-ci seront gardées dans votre "Private Warehouse", et seront groupées et envoyées ensemble à la fin du mois !

- À la fin du mois vous recevrez un lein vers un invoice permettant de choisir la méthode d'envoi de votre choix (ie: EMS, Registered, Postal parcel, FEDEX/DHL, Amazon Europe, etc.) et de régler vos frais de port.

- Cet invoice couvrira les frais de port correspondant au poids et dimensions EXACTES de votre colis regroupé ! = moins cher

- Après avoir choisi votre méthode d'envoi et réglé l'invoice correspondant, votre colis sera expédié immédiatement :-)
Private Warehouse FAQ



0) Combien ça coûte d'utiliser le Private Warehouse?
- C'est une option gratuite ! Vous réglez les frais de port à chaque fin de mois :-)
1) Quels produits de mon Private Warehouse seront groupés et envoyés ensemble à la fin du mois ?
- Par défaut, TOUS les produits qui sortent entre le 1er et le 30/31 du mois (ainsi que tous les produits déjà sortis) seront groupés en un seul gros colis. Votre invoice final vous sera donc envoyé après la fin du mois !
2) Jusquà quand puis-je régler mon invoice "frais de port" de fin de mois ?
- Vous avez 10 jours pour régler votre invoice à partir du moment où il vous est envoyé.
3) Que se passe-t-il si je ne le fais pas ?
- Nous appliquerons une surcharge de stockage de 500¥/produit dans votre shipment et vous enverrons un 2ème invoice, avec là encore 10 jours pour le régler.
4) What happens if I still don't pay that 2nd invoice?
- Unfortunately, in order to prevent any service abuse, if you do not settle your shipping we will cancel all orders in your Private Warehouse, and refund your items with a 15% penalty. 
5) I want you to keep my orders more than one month, is that possible?
- For logistics reasons, right now we group orders every month!
6) Can I use Pay-Later together with my Private Warehouse?
- Yes you can! When you pay a "Pay-Later" order for which you selected the Private Warehouse option, the corresponding items will enter your Private Warehouse and be consolidated with other items from that month! So convenient.
7) Now that the Private Warehouse option exits, can I use it on my previous/pending orders?
- Sorry, we are not able to apply this option to orders that have already been placed.
8) Can you ship my monthly Private Warehouse items in several small parcels?
- All monthly Private Warehouse items will be shipped in ONE single consolidated parcel!
For any other questions on your Private Warehouse at Nin-Nin-Game.com,

please contact our Customer Service

!